Inspector Spacetime the Musical

Type:
Theatrical musical
Origin:
UK

Talk Page
Inspector Spacetime: The Musical (full title: Inspector Spacetime and the Blorgons in the Seven Clues to Armageddon: The Musical) opened on 15 December 1973 in London's West End. Running five hours long, it was written by Anthony Bonham Pease and was directed by English experimental theatre actor and comedian Ken Campbell, who also starred as the Inspector. Universally panned as ill-conceived, overlong, and potentially dangerous for the franchise, it closed two days later.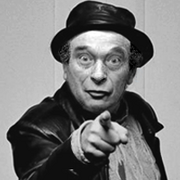 Although BTV does not consider it to be canon, and generally prefers not to acknowledge it all, they did license Great Ending Productions to produce a soundtrack album in 2007.
Ad blocker interference detected!
Wikia is a free-to-use site that makes money from advertising. We have a modified experience for viewers using ad blockers

Wikia is not accessible if you've made further modifications. Remove the custom ad blocker rule(s) and the page will load as expected.